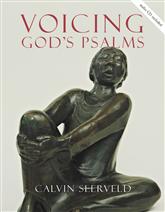 This week's highlighted book is Voicing God's Psalmsby Calvin Seerveld (Grand Rapids, MI: Eerdmans, 2005).
About this Book
In the pages of this poignant volume are fresh verse translations of the biblical psalms by master wordsmith Calvin Seerveld. Voicing God's Psalms contains thirty-seven psalms from the canonical book of Psalms and several psalmic passages from elsewhere in Holy Scripture (both Testaments) -- all strikingly translated by Seerveld from the original Hebrew and Greek languages into idiomatic American English.

Seerveld has arranged his carefully crafted psalm translations into thematic clusters under nine progressive headings. He follows half of his translations with singable psalm versifications fashioned to various melodies. In an introduction and an afterword Seerveld sets the biblical psalms in historical context, highlights the rough and tender tenor of God's psalms, and offers concrete suggestions for helping these psalms come alive in our private and public worship today.

The accompanying audio CD features oral readings by Seerveld himself of many of the printed psalm translations, interspersed with select versification melodies skillfully played by solo recorder or saxophone.

An extraordinary book-and-CD combination, Voicing God's Psalms will help many worship leaders and music directors in preparing liturgies and will inspire many believers in their personal devotions.
Purchase this Book
Visit Eerdmans' webpage to purchase Voicing God's Psalmsand to read reviews about this book.
The Author
Professor Calvin Seerveld is the Fellow in Philosophical Aesthetics at the Paideia Centre for Public Theology. More information about him can be found on Paideia's website.
Have a look at the complete Publication List for more great books from the Paideia community.
Leave a Comment