Christian Philosophy: A Systematic and Narrative Introduction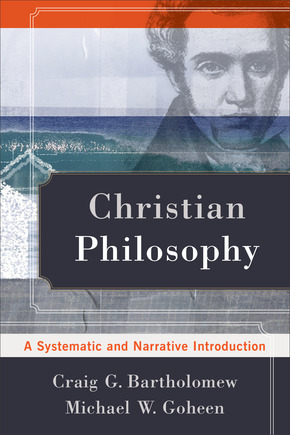 Forthcoming publication by Craig Bartholomew and Michael Goheen (Grand Rapids: Baker Academic, October 2013)
*Note: This page is under construction. Check back regularly for updates*
"This third book in a series of successful introductory textbooks by Craig Bartholomew and Michael Goheen builds on their previous projects, The Drama of Scripture and Living at the Crossroads, to offer a comprehensive narrative of philosophical thought from a distinctly Christian perspective.
After exploring the interaction among Scripture, worldview, theology, and philosophy, the authors tell the story of philosophy from ancient Greece through postmodern times, positioning the philosophers in their historical contexts and providing Christian critique along the way. The authors emphasize the Reformed philosophical tradition without neglecting other historical trajectories and show how philosophical thought relates to contemporary life" (from the publisher).
Click here for full information.
Christian Philosophy: A Resource List
*Note: This is a work in progress. Check back regularly for updates*
To the student:
Philosophy is a – I am tempted to write the – great(est) subject!! But it is not always easy and sometimes its history of 1700 years can be overwhelming so that one has no idea where to start. A good guide is invaluable and we hope that your professors are just such people. This resource list supplements Christian Philosophy: A Systematic and Narrative Introduction with additional sources that would have made the book too long if we had included them in the footnotes. In general it does not include the sources listed under "Annotated Further Reading List" at the end of Christian Philosophy, so make sure you check out that list first!
To the professor:
You will know only too well the challenge of finding the best sources for your students that get them deep into the meat of a topic as directly as possible. Below are sources that we have found helpful. Do let us know of additional sources that are really good and we will update the resource list.
Sources that we consider particularly important are marked with an asterix (*).
PART 1: APPROACHING CHRISTIAN PHILOSOPHY
Chapter 1: Why Philosophy?
*On the world as Creation see Herman Bavinck, Reformed Dogmatics: God and Creation. Volume 2. (Grand Rapids: Baker Academic, 2004) 430-439.
On the possibility of mis-directing philosophy see the discussion of structure and direction in Albert M. Wolters, Creation Regained: Biblical Basics for a Reformational Worldview. 2nd ed. (Grand Rapids: Eerdmans, 1985, 2005) 87-114.
For the wonderful story of Edith and Francis Schaeffers' ministry and L'Abri see Edith Schaeffer, The Tapestry: The Life and Times of Francis and Edith Schaeffer (Waco, Texas: Word, 1981).
C.S. Lewis majored in philosophy at Oxford University and this training was formative for his fictional, theoretical and apologetic writings.
See, for e.g., C.S. Lewis, "Christianity and Culture," in his Christian Reflections (Grand Rapids: Eerdmans, 1967) 12-36. On p. 33 he writes, "There is no neutral ground in the universe: every square inch, every split second, is claimed by God and counter-claimed by Satan."
On C.S. Lewis as a philosopher see Adam Barkman, C.S. Lewis and Philosophy As a Way of life: A Comprehensive Historical Examination of His Philosophical Thought (Wayne, PA.: Zossima Press, 2008).
Jean Vanier, the founder of L'Arche, did a doctorate in philosophy! Later in life he published, amidst his many practical books:
Made for Happiness: Discovering the Meaning of Life with Aristotle. Translated by Kathryn Spink. (Toronto: Anansi, 2001). As this book demonstrates, for Vanier philosophy is wonderfully relevant to life.
Luc Ferry has published a very readable introduction to philosophy, A Brief History of Thought: A Philosophical Guide to Living (NY: Harper Perennial, 2011). Ferry takes religion seriously and it would be a useful exercise for students to critically review pp. xi-16 after they have been introduced to Christian philosophy.
Chapter 2: Faith and Philosophy: Scripture, Worldview, Philosophy, and Theology
Faith: For an important discussion see Alvin Plantinga, Warranted Christian Belief, 246-258.
On religious belief and philosophy see Roy A. Clouser, The Myth of Religious Neutrality. 2nd ed. (Notre Dame: University of Notre Dame Press, 2005) 9-42.
Worldview
*The definitive book on the history of "worldview" is David Naugle's Worldview: The History of a Concept (Grand Rapids: Eerdmans, 2002).
There are now many good books available on a Christian worldview including:
Brian J. Walsh and J. Richard Middleton, The Transforming Vision: Shaping a Christian Worldview. (Downers Grove, Ill.: 1984).
James Sire has written several great books in this area including: The Universe Next Door; How to Read Slowly; Discipleship of the Mind; Habits of the Mind; Naming the Elephant: Worldview as a Concept.
Scripture and Philosophy
How Scripture informs and norms philosophy is a neglected area that is starting to be addressed.
A fine book is that by Dru Johnson, Biblical Knowing: A Scriptural Epistemology of Error (Eugene, Or.: Cascade, 2013). Foreword by Craig Bartholomew.
On the Old Testament / Hebrew Bible and philosophy see the important book by Yoram Hazony, The Philosophy of Hebrew Scripture (Cambridge: CUP, 2012), and the review by Craig Bartholomew in Review of Biblical Literature (online).
In the Reformational tradition an important older work is H. Evan Runner, The Relation of the Bible to Learning (Toronto: Wedge, 1970).
Calvin G. Seerveld, "Biblical Wisdom Underneath Vollenhoven's Categories for Philosophical Historiography." Philosophia Reformata, 38(1-2) (1973):127-143. Available online; an important piece by a Reformational philosopher well versed in Scripture.
Alvin Plantinga, "Two (or More) Kinds of Scripture Scholarship" in his Warranted Christian Belief (Oxford and NY: OUP, 2000) 374-421, is an extremely important discussion of the relationship between philosophy and biblical interpretation.
Scripture, Theology and Philosophy:
See Craig G Bartholomew:
"Uncharted Waters: Philosophy, Theology and the Crisis in Biblical Interpretation." in Renewing Biblical Interpretation, C. Bartholomew, et al., eds. Volume 1 of the Scripture and Hermeneutics Series. (Zondervan and Paternoster) 2000, 1-39.
"Philosophy and the Old Testament: A Neglected Influence" in Craig Bartholomew and David Beldman, eds., Hearing the Old Testament: Listening for God's Address (Grand Rapids: Eerdmans, 2012) 45-66.