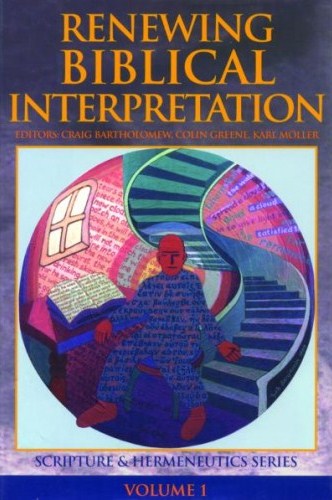 This week's highlighted book is the first volume of the Scripture and Hermeneutics Series, Renewing Biblical Interpretation, edited by Craig Bartholmew, Colin Greene and Karl Moller. (Cumbria, UK: Paternoster Press and Grand Rapids, MI: Zondervan, 2000). With the Scripture and Hermeneutics Seminar approaching on November 22, it is an appropriate book of the week.
(For more information about the Scripture and Hermeneutics Seminar, click here.)
About this Book
The first volume in the Scripture and Hermeneutics Series, this book seizes the opportunity to reassess the discipline of biblical studies from the foundation up and forges creative new ways for reopening the book for our culture. Including a retrospective on the consultation by Walter Brueggemann, the contributors to Renewing Biblical Interpretation consider three elements in approaching the Bible---the historical, the literary and the theological---and the underlying philosophical issues that shape the way we think about literature and history. Renewing Biblical Interpretation is the first of eight volumes from the Scripture and Hermeneutics Seminar. This annual gathering of Christian scholars from various disciplines was established in 1998 and aims to re-assess the discipline of biblical studies from the foundation up and forge creative new ways for re-opening the Bible in our cultures.
"This book brings together some of the key players in the present discussions of how to use the Bible, not simply to talk about how difficult it all is but to point new and creative ways forward. A refreshing and wide-ranging discussion that will help us all both to think clearly and to read – and teach! – more responsibly."
--Tom Wright, Canon Theologian, Westminster Abbey
Purchase this Book
Renewing Biblical Interpretation can be purchased on Zondervan's website.
The Editors
Karl Möller is lecturer in theology and religious studies at St. Martin's College, Lancaster, and senior tutor at the Carlisle and Blackburn Diocesan Training Institute. He is the author of A Prophet in Debate: The Rhetoric of Persuasion in the Book of Amos and has been involved in several other Scripture and Hermeneutics volumes.
Craig Bartholomew (MA, Potchefstroom University, PhD, Bristol University) is professor of philosophy and biblical studies at Redeemer University College in Ancaster, Ontario, Canada. He is the series editor for the Scripture and Hermeneutics Series. He is the Principal of the Paideia Centre for Public Theology.
Colin Greene is head of theology and public policy at the British and Foreign Bible Society and visiting professor of systematic and philosophical theology at Seattle Pacific University. He is the author of Christology and Atonement in Historical Context and Making Out the Horizons: Christ in Cultural Perspective.
---
Have a look at the complete Publication List for more great books from the Paideia community. The full Scripture and Hermeneutics Series can be found here.
Leave a Comment